Past editions
Introduction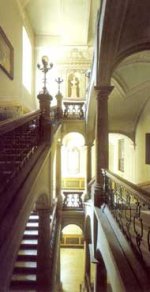 The project "Law & Business in Europe" was launched in 2005 by the University Institute of European Studies and the Centre for Studies on Federalism, with the essential financial support of the Compagnia di San Paolo.
From 2005 till 2008 the course has been organised under the auspices of the University of Turin, the University of Fribourg (Switzerland), the Carlo Cattaneo University, the Universidad de Lima, the European Training Foundation and the European Policy Centre. It was structured as an intensive programme (roughly 6 hours a day of training activities for approximately 50 days) where participants were offered a high quality specialised training in the field of EU economic law, business and competition.
The two/three week Autumn School was launched in 2009 in the framework of the "Law & Business in Europe" project. It represents the response to the recognized need for flexible and intensive training for participants.
Focused on EU corporate strategies and management, the autumn school provides intensive practice-oriented teaching and specific interdisciplinary knowledge in the fields of economic and legal management. The course content was developed around four interconnected themes: EU business policies, corporate strategies in Europe, EU business law and innovation policy.